Founded in 1953 by Dr. John R. Christopher
The School of Natural Healing

Search The School of
Natural Healing site:
Visit Christopher Publications bookstore for all your herbal and natural healing books & products


David Hall's Cellerciser
®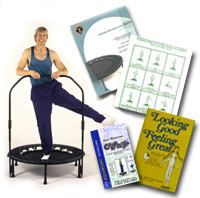 Here is what your kit includes
:


Portable half-fold or Tri-fold Cellerciser®, Balance Bar, Carrying Bag, Video (DVD), Book, Booklet, Excercise Chart and intro kit. Price includes shipping to the 48 states. We ship worldwide (except Australia and the Philippines)

Why Cellercise?
®


Don't Exercise, Cellercise®!

Cellercise® flexes ALL 75 TRILLION CELLS at the same time! Even better, it requires only 10 minutes a day!
The School of Natural Healing is pleased to announce that we are now an authorized distributor of David Hall's Cellerciser®!

David & Fawn Christopher have spoken about the Cellerciser® every week for years on their popular radio show, A Healthier You.

As a preferred distributor we are able to get you a lower cost than if you went to David Hall's website and bought it direct from the company! For proof visit http://www.cellerciser.com and click the Cellercise Store link - but don't buy it there! You must purchase it here to get the lower cost.
When weight or stress is applied to a muscle, it applies weight or pressure against the cell membrane. Cells increase the amount of protein in their membrane to avoid rupture. As we Cellercise® the cells get bigger and stronger. The movement creates momentum. Acceleration and deceleration create pressure changes within the body and an increased amount of weight against the cell membrane. At the bottom of the bounce, every cell in the body is stimulated, exercised and strengthened. Cellercise® exercises more than just muscles. Every cell is exercised - including internal organs, veins, capillaries, bones, connective tissue and skin. They are toned, cleansed and strengthened.

The Cellerciser® is not a typical rebounder or mini-trampoline. The Cellerciser® offers the NEW "TRIPLE-TIERED TAPERED SPRING" (PATENT PEND), not the typical tube spring which can lead to nerve damage and lower back problems. There are lots of rebounders....there's only one Cellerciser®. Feel the difference.

There is only ONE CELLERCISER®. TheCenter for Cellular Health is the only company producing the CELLERCISER®. The CELLERCISER® is NOT produced under ANY other name. If another company claims they offer the same unit under any other name such as a rebounder, they are deceiving you. Don't settle for a cheap copy cat that may fall apart. You deserve the best.
Buy the Half-fold Cellerciser for just $420
See short Cellerciser Videos by clicking the title of the one you want to watch below:
Buy the Tri-fold Cellerciser for just $554
Cellercise® is Dave Hall's unique name for exercise that applies weight and movement to every cell causing the entire body, it's parts and functions to become stronger, more flexible and healthier. Cellercise® works because all body parts and functions are made up of cells.

Cellercise® is a weight bearing exercise without the jarring and damage of most impact aerobic activities. Cellercise® uses vertical movement like weight lifting, push-ups, pulls-ups or sit-ups in a repetitive up and down motion. However, these conventional forms of exercise target and isolate specific muscles or muscle groups. It's very time consuming and often tears down the body to build it up.
NOTES: The charge on your credit card will be from Christopher Publications
We cannot ship to Australia or the Philippines. Free shipping in the continental United States.